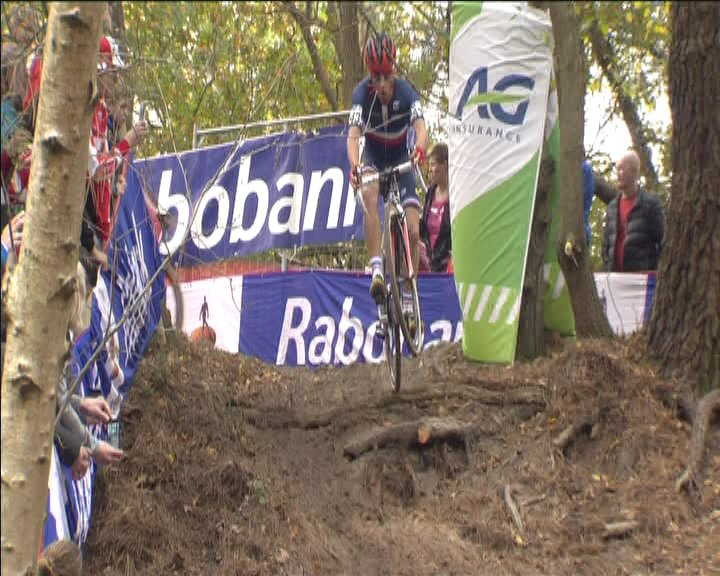 Venturini bags some airtime during the men's race
———————————–
The European Cyclocross Championships were held on Saturday, and for the first time there was a men's elite race alongside the women's / u23s / junior races.
Both the women's and men's races were broadcast live on TV and Internet. Viewers in the UK were able to cheer on Nikki Harris to a bronze medal, behind the Belgians Jolien Verschuren (silver) and Sanne Cant (gold).
All three women have been dominant in women's cyclocross so far this season. On the men's scene, however, one man sticks out head and shoulders above his rivals, the young Belgian Wout van Aert.
Van Aert arrived as the hot favourite to win the sky blue jersey, having won every round of the BPost, Superprestige, and World Cup classifications this season. There was a strong field of riders determined to knock Van Aert from his perch, but it looked like business as usual as the rangy Belgian started to pull away from the field. The Dutchman Lars van der Haar was the only rider able to keep in touch and even then Van Aert was building a lead.
And then something odd happened.
A momentary lapse of concentration? A slipped chain?
Whatever happened, Van Aert lost a few seconds and the Dutch dude hauled himself back on terms, before going on to drop the favourite on the final lap, while Kevin Pauwels took the final medal of the day.
For the second time in as many "jersey" races Van Aert was beaten to the line by a Dutchman. This kind of thing doesn't go down well in Belgium! It seems that Van Aert simply ran out of gas and had nothing left to give.
While I will never know what it is like to win a local CX race, never mind a prestigious race like the European Cyclocross Championships, I do know what it feels like when the man with the hammer comes calling. And it ain't pretty.
I feel your pain, Wout.
Jackson Browne, Running on Empty